There is no better time to enjoy Cayman's wonderful world of sponges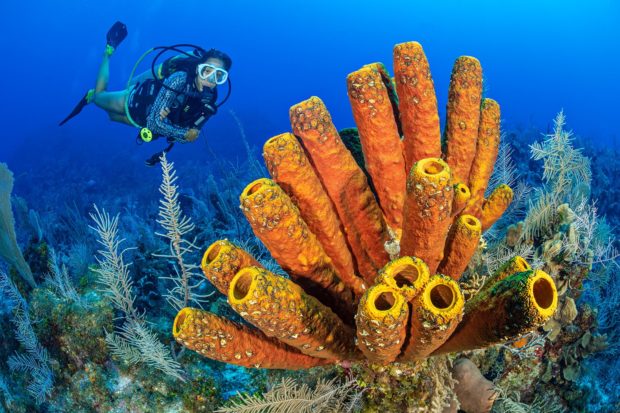 As if the Cayman Islands didn't already offer an amazing diving experience, fantastic sponge life is another reason to take a dive vacation here in 2020.
Divers who jump into any dive site in the Cayman Islands these days will witness sponges at the peak of their life cycle on local reefs. This means sponges are healthier, larger and more picturesque than they have been for more than a decade. It has been 15 years since Hurricane Ivan struck the Cayman Islands and damaged the reefs destroying many of the sponges. The lack of storms since then has allowed them to grow back undisturbed. Alex Mustard, widely regarded as one of the world's leading underwater photographers, photographs Cayman's underwater world frequently and notes changes through the seasons.
"Hurricane Ivan levelled a lot of sponges on the north, east and south of the island, and I remember walking on Colliers beach straight after the storm and seeing loads and loads of sponges washed up," he said. "A lot of them started re-growing then, and many have now reached maximum size and they look superb."
"Sponges naturally fall off after they reach their maximum size and eventually regrow," said Ocean Frontiers co-owner Steve Broadbelt, "but the hurricane wiped so many of them out at the same time. The quiet years have allowed them to reach maximum growth. It's amazing to see them and we're excited to show them to our visitors."
Sponges attach themselves to the seafloor and filter water for food. These sea animals been around for thousands of years, and more than 6000 species of sponges can be found in oceans around the world. Cayman's warm, clear and nutrient-rich water is ideal for Caribbean sponges and local reefs house more than 57 species in various colors. Among them; giant barrel sponges, orange elephant ear sponges, ball sponges, boring sponges, rope sponges and the rare antler sponge. If undisturbed, a giant barrel sponge can live 130 years. One of the largest sponges in Cayman is an elephant ear sponge on the west wall that measures 9 feet across.
Like corals, sponges play an important role in complex reef ecosystems. Boring and encrusting sponges compete for space with hard corals on the reef. Tube and barrel sponges give tiny goby fish a place to create their "cleaning stations." Hawksbill turtles love to munch on the tough outer layer of barrel sponges, and angelfish feed on the soft inside of the sponge left behind by the turtles.
Steve Broadbelt says that sponges, like corals, also spawn during the year but not necessarily at the same time. Seasoned divers will have noticed.  "Anyone who has been diving Cayman long enough will have seen sponges spawning at some point. This is the only time a sponge visually demonstrates that it is actually a living animal."
Scientists believe life-saving drugs can be found in the ocean. From a large shallow water sponge in the 1950's, scientists extracted two chemicals used to treat patients with cancer and now HIV. With much to learn about sponges and their relationship to other sea animals on the reef, there is concern about risks to their habitats; bottom trawling fishing, underwater cables, oil and gas exploration.
Underwater photographers give Cayman high marks for its picturesque reefs and drop-offs, its marine life and wrecks, and its warm, crystal clear water. The current splendor of its sponges is another reason to visit and document Cayman's unbeatable underwater world.
Article via The Cayman Bottom Times –  a news collaboration by four leading dive operators to promote the superb diving of the Cayman Islands, and keep the diving public informed of important developments and events. Ocean Frontiers, Red Sail Sports and Sunset House in Grand Cayman, and the Southern Cross Club in Little Cayman, all members of the Cayman Islands Tourism Association, represent more than 100 years of solid experience in a destination that is recognized as the birthplace of recreational diving. With a unique combination of deep wall and shallow reef diving, several wrecks, and world-famous Stingray City, the Cayman Islands has cemented its place as the top diving destination in the Caribbean.
Offering diverse and wide-ranging dive programs on both Grand Cayman and Little Cayman, the members of this dive group represent the best Cayman has to offer; Ocean Frontiers, Red Sail Sports Grand Cayman, Sunset House and the Southern Cross Club.
The post There is no better time to enjoy Cayman's wonderful world of sponges appeared first on DIVER magazine.