Solving problems – One Coral Polyp at a Time
By Jean-Michel Cousteau and Holly Lohuis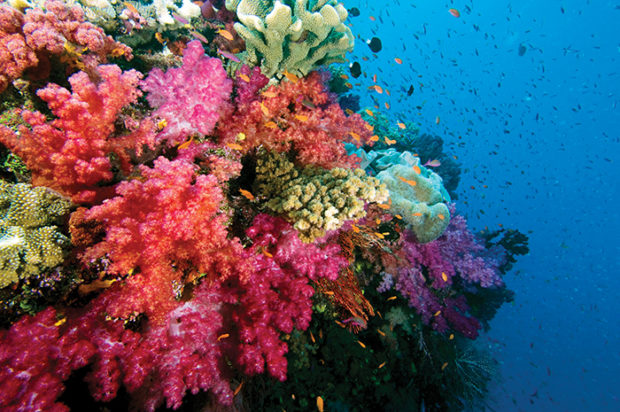 Leaders from around the world gathered in San Francisco this past month in the largest climate event ever held in the United States and I was very proud to be a part of this Global Climate Action Summit. It was very inspiring to see so many people expressing their concerns about the health of our planet, just as my family has for decades. We see climate in a broad sense with the oceans and atmosphere being intractably linked. 
"Climate change is undoubtedly the defining issue of our time, and working together across nations, organizations and communities is the only way that we can tackle this enormous task and seize the huge opportunities," said head of UN Environment Erik Solheim. "We have seen here over the past few days the inspiring amount of work that is already being undertaken by communities around the world to address these issues. If we manage to put our environment first, we can come out on the other end of this formidable challenge and achieve our common goal, a sustainable world for all." 
When I was asked to address the threats to coral reefs from climate change and the possible solutions, I chose to first look at the coral reef relative to the value and quality of human life. As environmentalists, we are sometimes criticized for prioritizing critters over people. Let me make it clear—human life and the quality of that life, are what we humans value. As we discuss the miracles of nature and the grandeur of natural places, we're also talking about our connection to them. What we do not sometimes realize is our dependence on them. 
So, as we address the most pressing issue of our times, climate change, protecting coral reefs looks like it might begin to fall down the list; but I believe that coral reefs protection and ocean conservation need to stay as a priority. Let me tell you a small but inspirational story to explain why.
It starts with a single coral polyp. An animal with no limbs, no face, no brain. A quarter-inch of vulnerable tissue programmed for survival. Almost magically, it can pull calcium carbonate from the surrounding water and create a hard skeleton in which to live. It can reproduce itself sexually, or if that's out of the question, it can create clones. To feed itself, it grabs whatever is floating by, but it's also a farmer. Plant cells have been incorporated into the coral's tissue, and the coral's waste becomes fertilizer for the plant and the plant makes food for the animal. Nothing is wasted.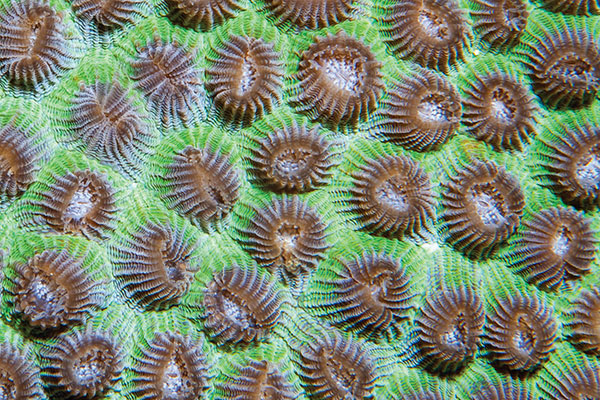 Self-sustaining model
In other words, it's one of nature's wonders. The accumulation of coral skeletons, which become entire reefs, are a testimony to the persistence of survival—the simplest of creatures building massive structures, visible from space. Although they cover less than one percent of the ocean's surface, they have created a home to over one-quarter of all known marine animal and plant species.
Coral reefs are a primordial Garden of Eden, actually a Jungle of Eden, where life thrives, where evolution experiments, and where diversity looks like Mardi Gras. 
We also see that here is a model for natural sustainability, a closed system that uses renewable energy and achieves a dynamic balance in what is a good analogy for a self-sustaining city. If our lives were more closely modeled after the coral reef, our automobiles and homes would be solar-powered and we would have gardens on our rooftops.
Towards enlightenment

It's very possible that the coral reef may be serving as one of the canaries of the sea. Whether it's the coral reef or other global systems, evidence is mounting that the patient is sick and the temperature is rising. We must now face the fact that we may know the illness, and it's human behaviour.
The list of problems is long: pollution, coastal development, destructive fishing practices, coral mining, careless tourism, CO2 emissions.
A friend of mine worries that we are entertaining ourselves to extinction, instead of educating ourselves to enlightenment; I'd like to turn that around. I'd like you to go diving and let the coral reef entertain you toward enlightenment. 
Whatever approach you decide to take, for the coral reef, for business, for the military, for the economy, for your perfect dive destination, you must now always consider the issue of the survival of Life itself.
If we can appreciate the fact that climate change knows no borders; we must then be a collective voice and all work a little harder to minimize our contributions to greenhouse gases and the impacts of climate change. The time for action is now. Our efforts to protect, restore, and enhance the quality of all life starts with the every day choices we make for ourselves and our families. Everything is connected. Protecting our oceans now will be our gift to the future generations. 
For more, visit: www.oceanfutures.org
The post Solving problems – One Coral Polyp at a Time appeared first on DIVER magazine.