Family-friendly Destinations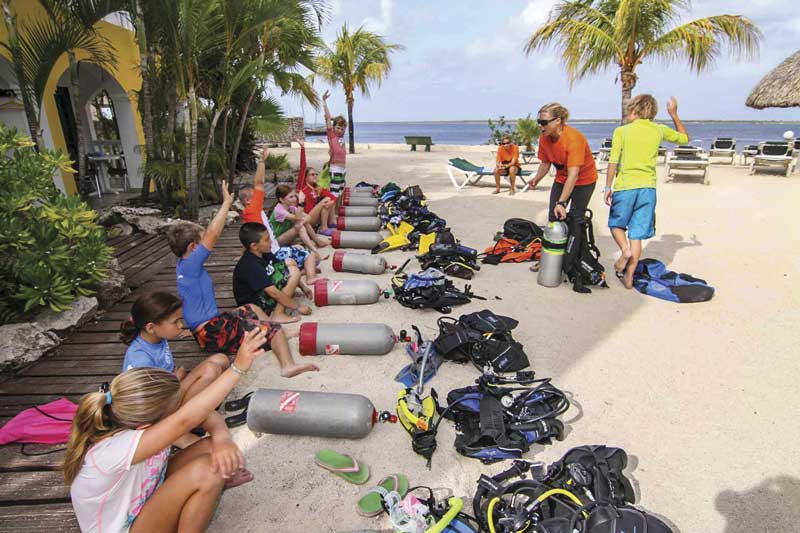 By Margo Peyton
At the rate 2020 I shaping up, we'll all need a holiday come 2021! Start thinking now about where you'll take your family for a break once the World opens up again and it's safe to travel. Here are my top family-friendly dive destinations you should be thinking about taking your family for 2021…
Bonaire
This island is at the top of my list because of the family-friendly 1, 2 & 3 bedroom condo properties such as Buddy Dive Resort, located oceanfront with spectacular views of that dream-like turquoise sea. Buddy Dive is well suited for larger families as they offer a private bathroom for each bedroom, full kitchens, ocean-view balconies and two swimming pools in addition to the Buddy Dive Academy, with PADI programs such as SASY for kids age 5-7, PADI Seal Team for kids age 8 & 9, and Jr. Open Water, Jr. Advanced, and even Jr. Rescue.  
The Buddy Dive staff is well trained with oodles of experience diving with kids. They are one of the few resorts that offer kids' rental dive gear and lots of little tanks. Plus Bonaire is one of the calmest, clearest, easiest places to dive with kids. Parents and their certified youngsters can jump right off Buddy Dive's dock and enjoy a nice easy shallow dive. Since kids age 10 and 11 have a 40-foot (12m) max depth, it's often hard to find places like Bonaire where the sandy bottom does all the work keeping young kids at their recommended depth 40 ft (12m).
Parents can relax and enjoy the experience of diving with their kids while encountering tarpon, turtles, schools of colourful tropical fish and, of course, the coral nursery trees. Bonaire also has lots to do topside for families, including one of my favourites, Blow Karting on the world's largest salt track! Bonaire caters to every level of diver and is one of our more affordable 7-night inclusive dive packages. Buddy Dive is COVID approved for Bonaire.
Roatan
The Bay islands continue to be one of the dive world's hidden treasures. The marine park has been a priority on the island and has blossomed as a result. Since its inception, there has been a huge comeback of turtles, large schools of fish, grouper, and lobster. Roatan is another top choice because there are so many shallow sites to dive with kids and new divers. There are beautiful beaches to explore and friendly people to experience. My two favourite properties for families are Turquoise Bay Beach Resort and Mayan Princess Resort; both are all-inclusive, and owned and operated by a local family. The dive staffs are super kid-friendly and well-trained for safety at both resorts. This year Turquoise Bay Resort became special needs-qualified as well. Mayan Divers and Subway Divers offer smaller tanks and kid's dive gear for younger divers. Both resorts have fully upgraded rooms, kitchens, boats, and air filtration systems and are ready and waiting for families to arrive. Turquoise Bay offers horseback riding, fire dancers, sand sculpting, yoga, ziplining, shark diving, and private courses for SASY, Seal Team, Jr. Open Water, Jr. AOW, and Jr. Rescue, as well as all adult courses too.
Turquoise Bay has beautiful overwater cabanas dotted along a private lagoon to snorkel or paddleboard; it's perfect for some peace & tranquility. Sister property Mayan Princess offers 1 and
2-bedroom oceanfront villas with full kitchens. The dive sites are 5–10 minutes away, and boats are large and spacious. Both locations offer excellent in-ocean training areas
for those who want to learn to dive. The price point is very affordable and all-inclusive.  
St. Lucia
I just love bringing families to this island. It's world-famous for honeymooners, but now that the honeymooners have children, they can return to celebrate with the whole family. Some of the best diving is below the famous Pitons, and there are some great wrecks for adults and teen divers to explore. It's crazy cool to dive some of those volcanic formations and pinnacles under the sea. Kids especially love Superman's Flight, one of the best drift dives on the island, and diving the Vicky B wreck. Anse Chastanet St. Lucia is perfect for both divers and non-diving family members. They offer paddle boarding, kayaking, sunrise and sunset yoga, volcano hiking, jungle biking, and of course some of the best scuba diving in this area. Anse Chastanet is an upscale, 5-diamond resort.
Did I mention the chocolate tasting and farm-to-table culinary classes with cupcake decorating? How about live music and jazzy sunset cruises? And if that's not enough, every May and June you may be lucky enough to catch the sea turtles nesting on the Anse Mamin Beach. I have also been fortunate to catch the sea turtles' hatch in late July and August. We had 98 baby turtles to release two years ago and it was amazing! During the Kids Sea Camp weeks at Anse Chastanet, kids can learn to dive, do SASY or Seal Team, and explore the protected marine sanctuary.  
There are 1- and 2-bedroom Piton view rooms, as well as beach level rooms for families. All dives are guided and their ratio for kids is one instructor or Dive Master to every two kids age 12 and under. It does not get any safer than diving with Dive St. Lucia.
Palau
Yes, I know it seems a long way to go, but Palau is definitely a Wow!  Kids love Jellyfish Lake; there's no need to be afraid because the jellyfish don't sting. It's a rare opportunity to see the 8th Wonder of the World! Palau is also one of the few places in the world where kids can safely learn about and dive with sharks, manta rays, and other big marine life. Many of the dive sites are in shallow water, easy for all to enjoy. Sam's Tours has the dive team to take PADI Seal divers to Ulong Channel and Jr. Open Water kids can dive in 30 ft. (9m) of water to see the giant mantas. Families can enjoy giant clams and mandarin fish just off Sam's Tours' dock any day around 4PM. Kids can learn all about the Palau Shark Sanctuary and take the Palau Pledge. The Palau Royal Resort is located right across the street and is perfect for families. It has a huge saltwater lagoon, as well as a large sandy beach. Palau is full of culture and history. Ask anyone who's been there, it's well worth the extra flying time!
Fiji
To me, Fiji is all about family. It is all about love and children, music and dance, food and friendship. It's a place where culture becomes an integral part of the trip. Kids have so many opportunities to interact with the local villages and local children. It's a very humbling experience and for sure an education vacation. I believe there is one resort that stands out for luxury 5-star service and diving, and that is Jean Michel Cousteau's resort. The name kinda says it all. 1- and 2-bedroom villas are perfect for families, with the Point Bure for families of five. There is shore diving and spectacular reef and shark dives. JMC has a full-service kid-friendly dive team. They can cater to any diet and are special needs-friendly as well. I have had great experiences at Castaway Island and Beqa Lagoon as well, but I would for sure say JMC is absolute perfection for kids.
The Philippines
This one is high up on my list, as is diving with PADI 5-star Sea Explorers. Taking kids to dive and snorkel with whale sharks in Oslob, turtles at Apo island, and experiencing the largest to the smallest of marine animals all in one trip, is truly a life-changing family experience. Families learn all about the Coral Triangle, which hosts more species of fish and corals than any other place on earth. Pura Vida Homes in Dauin is my choice resort; it's perfect for families with 1-, 2-, and 3-bedroom luxury villas, private pools, and a black sand beach. Private boats, private guides, private transfers, and excellent personal service. Sea Explorers has several properties that are all COVID clean and ready to take your family diving. Safety is their top priority.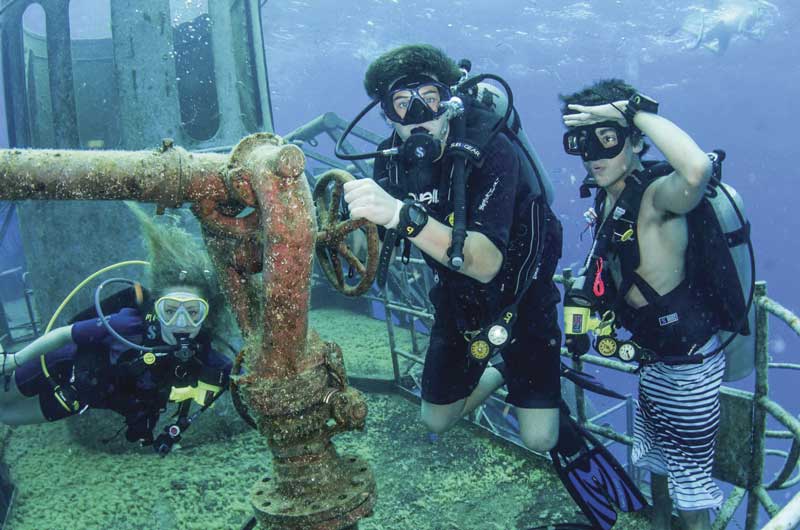 The Cayman Islands 
Close to my heart and where my own son was born, and my kids learned to dive. Reef Divers offers all three Cayman Sisters to dive for families. This is perfect for island hopping and easy diving. Cayman Brac Reef Resort, Little Cayman Reef Resort, and Grand Cayman Cobalt Coast resort are my recommendations: I have been diving with these properties for over 20 years. The dive staff are family-friendly and love to have fun with kids. Volleyball, basketball, soccer, and diving are apart of all our trips. These islands are easy and inexpensive to reach for North Americans. The Cayman Islands are my top choice for ease to get to and easy to dive.
All of the above are featured Kids Sea Camp destinations. That does not mean that's all there is out there, it just means those are the ones I have personally vetted and feel are best suited for kids and new divers. They offer something for everyone and they provide a top-level of personal excellence to every family vacation.
Taking your kids on dive adventures around the world is giving them a living classroom to learn in. It's giving them a global view of the world and all its possibilities. It's taking their dreams and making them a reality, a priceless family bonding adventure. It's been a tough year for all our families and we are all looking to go dive again soon. These destinations and resorts I feel are taking keeping families safe to the highest level of priority. They have earned my trust and my endorsement for diving and training with kids.
I have contributed to over 7,600 youth certifications and taken over 350 families a year diving. I have a perfect safety record, with zero accidents. Please think about any of these choices for your family when you're ready to travel and enjoy the world again soon. I cherish the opportunity to dive with kids they inspire me and renew my love of diving. Diving as a family is one of the most beautiful forever memories you can create.
Margo  Peyton is the founder of Kids Sea Camp and Family Dive Adventures, recipient of the DEMA Reaching Out Award, Woman Divers Hall of Famer, and the PADI Award of Excellence in training and education, with over 6,000 certified kids and zero dive accidents! 
For more info visit: Family Divers
The post Family-friendly Destinations appeared first on DIVER magazine.