Winter 2019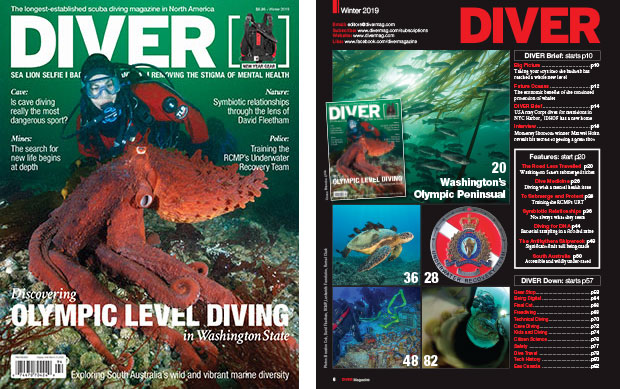 Features this issue:
The Road Less Travelled Washington State's submerged riches
Dive Medicine Diving with a mental health issue
To Submerge and Protect Training the RCMP's URT
Symbiotic Relationships Not always what they seem
Diving for DNA Bacterial sampling in a flooded mine
The Antikythera Shipwreck Significant finds still being made
South Australia Accessible and wildly under-rated
Columns this issue:
Interview with Underwater Photographer Maxwel Hohn
Being Digital with Michel Gilbert & Danielle Alary
Freediving with Kirk Krack
Technical Diving with Steve Lewis
Cave Diving with Natalie Gibb
Citizen Science with Heather Creech
Kids and Diving with Margo Peyton
Safety by Divers Alert Network
Dive Travel by Fly & Sea
Tech Diving History with Michael Menduno
Future Oceans with Jean-Michel Cousteau
Eau Canada
Dive News
Dive Facts with The Diving Almanac
You can read the issue online right now!
Or you can subscribe and get it delivered to your door!
The post Winter 2019 appeared first on DIVER magazine.