Underwater Photography Tips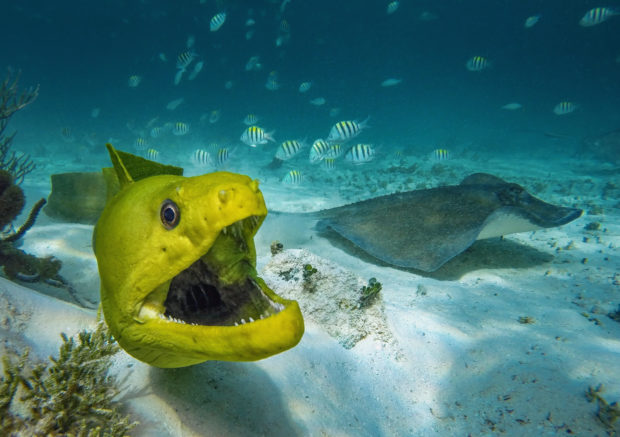 DIVER Photographer Maxwel Hohn gives us three great tips to improve your underwater photography:
Shoot with what you got! Many divers are under the assumption that they need the fanciest camera equipment to capture good photos. This is incredibly false. Use what you have and be creative. Some of my personal favourite photos were captured with a GoPro. It's portable, light, inexpensive and easy to pack with you during every dive so you never miss an opportunity to get a shot. The best camera you have is the one that's on you and it doesn't have to break your bank account. You can even make a nice tray and arms out of PVC pipe from the hardware store for $5 bucks!
Use ambient light. You don't need high powered lights and strobes to get incredible images. Work with the ambient lighting available. Try shooting in shallow water on a sunny day, at sun rise, or during sunset. During your dive always know which direction the sun is in and try moving around your subject to maximize the use of ambient light. I've often been told to always keep the sun on your back. While this works sometimes it is also false, try shooting into the sun and capturing the sun rays beaming down onto a subject. It creates a dance of light that really adds a sense of magic to an image.
Dive buddy. Having a reliable dive buddy is essential for underwater photography. Not only is it safer and more enjoyable with a friend but it also gives you the opportunity to have a model. Even if you are both diving with cameras you can still pick scenic areas where you might be able to take turns setting your camera down while the other diver takes photos. I find images much more interesting having a diver in them. This also gives a sense of scale and definition in the photo. Another little tip is for the diver modelling to have a flashlight in beam mode. This adds a sense of adventure to the image.
Maxwel Hohn is regular photographic contributor to DIVER magazine, he is also our resident online photography expert. Maxwel is a published and prize winning underwater photographer, certified drone pilot, social media expert, and videographer. He is a commercial diving instructor, tech instructor, and ambassador for Hollis, Oceanic, Stahlsac, Suunto, Zeagle and Hollis Rebreathers. For more: www.maxwelhohn.com
The post Underwater Photography Tips appeared first on DIVER magazine.