The Videographer's Checklist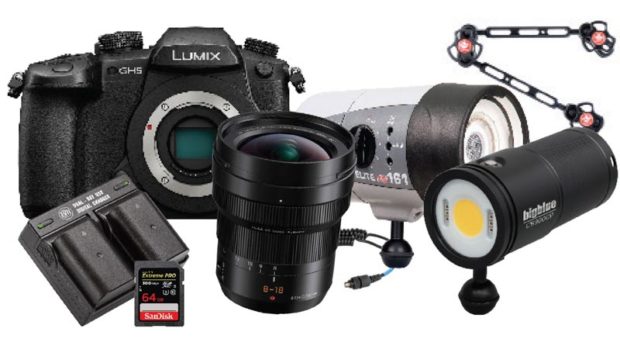 By Jill Heinerth
Buying a camera for shooting underwater video can be daunting. If you are looking for anything beyond an action-cam or GoPro, there are a lot of pieces and parts that make up a complete system. Navigating product websites can be difficult and coming up with an itemized gear list can be fraught with surprises. No matter how experienced you are, you might miss a critical part when you order a new camera or pack for a trip. Below is a list you can use to prepare for your next dive excursion or when buying your first underwater video system.
The Camera Body
Whether you buy a new or used camera, the camera body of a DSLR is usually priced and sold as a stand alone piece. That means you get the basic camera with a body cap that protects the sensor. There are some sellers who offer camera body/lens combos but in most cases you will need to add the right lens before you can shoot.
Cards, Batteries and Charger
Don't forget to bring along plenty of memory cards, batteries, and chargers. These are generally proprietary to your system and not easy to replace in a remote location. Cards should be carried in a protective box and batteries should be carried in hand luggage with the contacts protected. If your camera comes with a memory card, it is not usually large enough to support the volume you will shoot in video. Make certain you get a big, fast card that supports video.
Topside Accessories
If you choose to shoot topside footage with the same camera, you may need to bring a good strap, tripod, viewfinder, and some solution for capturing good audio. If you are in the mood to spend, look at gimbal stabilizers and other accessories that will help you get creative shots.
Lenses
GoPros and small cameras have built in fixed lenses, but more serious shooters will need to select the right lens for underwater conditions. Not all lenses are supported by waterproof housing manufacturers, so ensure you check compatibility before picking a lens. Most people choose to buy a wide angle lens first and add a macro lens later for shooting closeups.
Camera Housing
The camera body sits inside a waterproof housing, possibly the most expensive part of the system. Most housings are totally specific to a camera body model. If you change camera bodies, you will need a new housing.
Dome Port
A wide angle lens attaches to the camera body and sits inside a dome port that provides the correct optics for a specific focal length and model. A macro lens generally uses a separate flat port for closeups. In other words, your lens choice determines that you will be shooting wide on one dive and closeup on another dive and not both on the same dive.
Extension Tubes
Depending on your selected lens, you might have to buy an extension tube that moves the dome port further from the sensor. The extension tube may be equipped with a focus or zoom knob.
Zoom and Focus  Gears
In order to use zoom and focus knobs, a ratcheted ring is secured around the lens. This connects the exterior knobs with the lens and allows for adjustment while underwater. If you are exclusively using auto focus, then you will not need a focus ring.
Diopters
You may need to purchase diopters to mate with your flat macro port. Diopters offer different magnifications for closeup shooting. Diopters are sometimes included with a macro kit in a way that permits flipping/hinging a diopter on or off during a dive.
Body and Port Caps
Your housing should come with a protective body and port cap. These are important in order to keep the interiors clean. You cannot travel on an airplane with a fully assembled and sealed housing without risking damage, so the body and port are separated and capped for travel.
Dome Port Cover
A neoprene or thermoplastic cover will protect your dome port in your luggage and on the boat. Quality glass is expensive and you should do everything possible to protect the dome from scratches.
Pump for Leak System
If you have the option of adding a leak detection system to your housing, I highly recommend it. The kit is installed when you purchase the housing, but don't forget to bring along the pump and spare batteries for the leak detection system on your trip.
Lighting
One of the most overlooked expenses of underwater videography is quality underwater lighting. You can't simply use a primary cave light and expect reasonable results. Purpose-built video lights are equipped with a wide angle diffuser that offers very even coverage. The more you are willing to spend, the better the illumination. It can get confusing, so shop carefully to ensure that you are comparing apples to apples. Look for specifications and third-party test results to learn more.
Arms and Clamps
Lights are attached to the camera housing or camera tray with segmented support arms. Generally four arms and six ball clamps will suffice, but it is critical that you know the buoyancy of the system to select the correct arms. You may need to purchase buoyancy arms or floats to lift a negative camera. Some shooters add additional support arms to a tray to increase stability of underwater shots. The smaller the camera, the more difficult it is to hold a smooth shot or track a marine mammal.
Strobes
With modern DSLRs, it is possible to shoot video and stills on the same dive. Although some people use very high power video lights for their still photos, you may choose to use strobes, which are even brighter. In this case, they can be affixed to the same arm system using a tri-clamp. With tri-clamps, you can install a video light and a strobe on each side of the camera.
Strobe Accessories
You will need two sync cords or one dual sync cord to simultaneously fire strobes. You can choose standard cords or lighter fibre optic versions. Don't forget all the caps, covers, batteries, and chargers to keep these running. Your system might also require a hot shoe strobe sync device if you use fibre optic cables and your camera does not have an external flash.
Download Device
Some cameras offer wireless download capability, but given weak internet signals when travelling, don't expect to reach cloud services. It is almost always preferable to download your cards using a USB card reader or cable.
Additional Lighting
I carry a small Light and Motion video light on my left hand to act as a focus light in dark places. Professional shooters buy additional lights for their model to carry. Once again, the more light, the better.
Monitor, Batteries, and Charger
You may decide to add an external monitor to your housing for a larger, more detailed view. It will have its own batteries and charger.
Hard Case

Despite their additional weight, hard cases are the best protection for your camera system. I like to use Canadian-made Nanuk cases for airline travel and also for boat diving. I don't want to leave my camera floating in a rinse bin where it can get damaged, so I put it back in a Nanuk case and wrap it
in a towel to keep it cool and wet and, providing there is enough water onboard,
my hard case becomes a private rinse bin.
Cleaning Supplies
A toothbrush, air blower, lens pen, lens tissue, and cleaner are essential for keeping spots off the dome port. Don't forget silicone grease to lube O-Rings.
Spare Parts and Tools
It is a good idea to assemble a small spare parts kit and tools so that you can fix a switch or a dial in the field. Spare O-Rings for the main seal and dome part are important to have since it is easy to inadvertently damage an O-Ring by pinching it.
Desiccant
If you have a fogging problem in your housing, bring desiccant pouches or sheets to place inside.
International Power Converters
If you are travelling out of the country you may need power conversion plugs. Bring a 220 volt power bar, too, so you don't run out of outlets. Surge protection is a good feature since some destinations have issues with power surges that can damage your gear. Note that plugging a 110 volt power bar into a 220 volt will likely fry the power bar and possibly your equipment, too.
Laptop
Video files are large. You will need to download your files each day using a laptop and external hard drives for backup.
Flood Insurance
Divers Alert Network offers good insurance for replacing gear if it becomes flooded, stolen, or damaged in transit. It is worth the investment, but only available for US residents at this time.
Looking at this checklist, it is easy to see how the value of an underwater camera system can add up quickly. But when you are drifting over a seamount in turquoise Bahamian waters and a school of eagle rays comes by to visit, you'll be happy about every penny you spent. These experiences are simply priceless.
The post The Videographer's Checklist appeared first on DIVER magazine.