The New Trident Automatic Dive Watch by NOVE
NOVE recently announced their first automatic Swiss-made wristwatch via Kickstarter. The new Trident R150, or simply the Trident Automatic, is a sleek redesign of their Trident line of watches, a popular choice among divers due to its water-resistant capabilities up to 200 meters under water.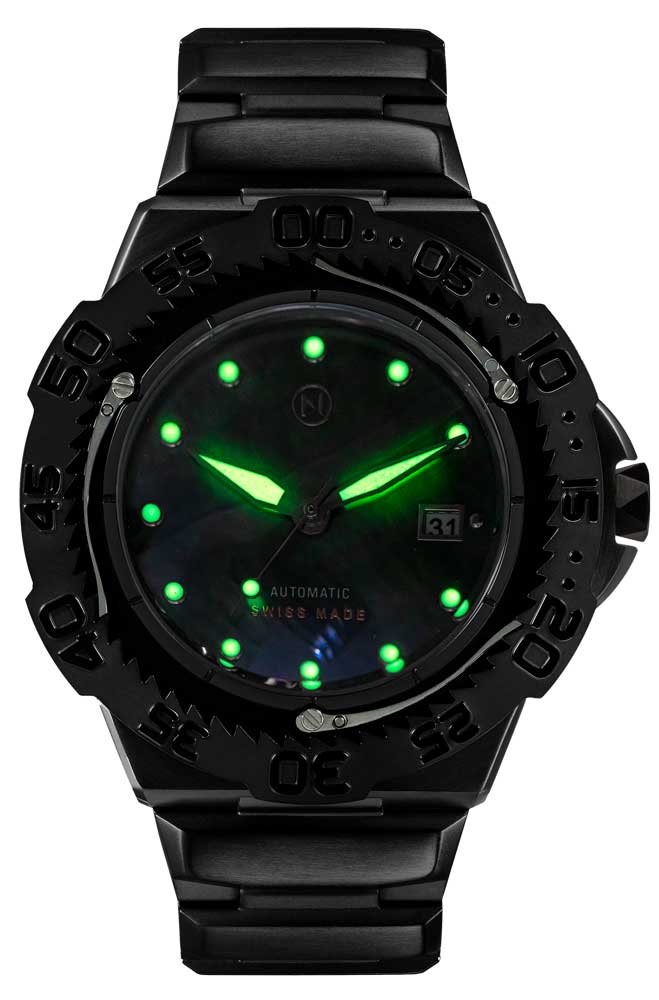 Inspired by Poseidon and trident, the Trident Automatic was made with divers and lovers of the sea in mind. Housed in an ultra-slim 13.05mm stainless steel case and engineered for what NOVE states as the best performance and comfort for both in and out of water, the watch is water-resistant for up to 200m. Further complimented by Super Luminous coating on the watch hands and index for easy visibility, the Trident Automatic's features are also optimized for night diving and swimming,
Citing a popular request from their loyal fans for an automatic wristwatch, NOVE built the Trident Automatic as a love letter to both the classic Swiss-made diving watch and the craftsmanship of automatic watches. This new design aims to reach a happy medium between the two, retaining the beloved features of classic Swiss-made watches and updating them to reflect the look, quality, and durability of watches today. Composed of a Double Curved Sapphire bezel and case backing, a Tahitian Mother of Pearl dial, and a new Automatic R150 movement, NOVE designed the Trident Automatic to retain a unique build that's slim, durable, and sure to capture attention.
Tiffany Meerovitsch founded NOVE in 2015 on the mission of creating beautiful timepieces as functional pieces of art. With inspiration stemming from a sense to innovate and establish a sense of individuality within the timepiece design trade, the new Trident Automatic Dive Watch by NOVE is a showcase of their passionate engineering philosophy. Juxtaposing modern design with the revered history of high-quality Swiss-made watches, the Trident Automatic Dive Watch is sure to be a favorite among divers and watch fanatics alike.

Become a backer and secure your Trident Automatic on Kickstarter through January 12, 2021.
The post The New Trident Automatic Dive Watch by NOVE appeared first on DIVER magazine.