Summer 2019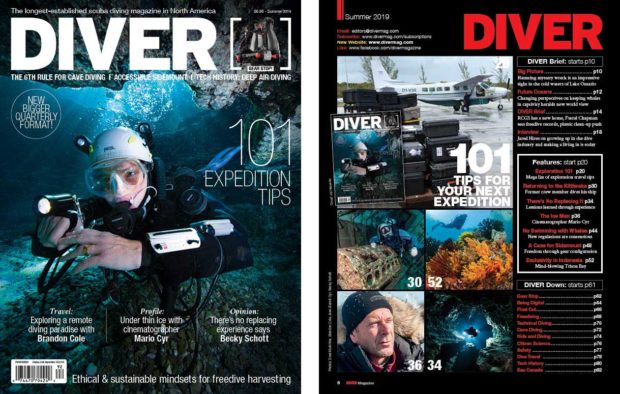 Features this issue:
Exploration 101

 – 

Mega list of exploration travel tips
Returning to the Kittiwake – 

 

Former crew member dives his ship
There's No Replacing It – 

 

Lessions learned through experience
The Ice Man – 

 

Cinematographer Mario Cyr
No Swimming with Whales – New regulations are contentious
A Case for Sidemount – 

 

Freedom through gear configuration
Exclusivity in Indonesia

 

– 

 

Mind-blowing Triton Bay
Columns this issue:
Interview with Jared Hires of Dive Rite
Being Digital with Michel Gilbert & Danielle Alary
Final Cut with Jill Heinerth
Freediving with Kirk Krack
Technical Diving with Steve Lewis
Cave Diving with Natalie Gibb
Citizen Science with Heather Creech
Kids and Diving with Margo Peyton
Safety by Divers Alert Network
Dive Travel by Fly & Sea
Tech Diving History with Michael Menduno
Future Oceans with Jean-Michel Cousteau
Eau Canada
Dive News
Dive Facts with The Diving Almanac
You can read the issue online right now!
Or you can subscribe and get it delivered to your door!
The post Summer 2019 appeared first on DIVER magazine.