New dive watch Kickstarter campaign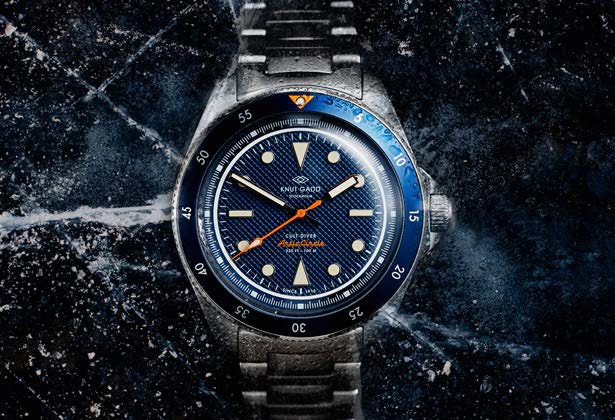 A new Kickstarter campaign has launched for a reasonably priced and very attractive diver water – the Cult Diver Arctic Circle.
Knut Gadd is a small lifestyle watch brand from Stockholm, Sweden, inspired by the founder's grandfather, a water polo player, an Olympian and a member of the old breed who enjoyed a good Scotch, a tailored navy blazer, top down jaunts on the Riviera, and a wristwatch he could trust with his life.
For their latest model, a dive watch they've named the Cult Diver Arctic Circle, they felt called to create something both compelling and meaningful, and for that they looked to their origin. Sweden, and all of Scandinavia, can be a harsh place, especially in Winter. And especially up in the far North. It's to here Knut Gadd will venture, north of the Polar Circle, to the coldest and clearest Arctic lake in all of Scandinavia: Troll Lake.
Each and every Cult Diver Arctic Circle will be lowered 100 feet to the bottom of Troll Lake and left to season for a chilling 72 hours, as a final test of quality and to give it some character. Apart from their drive to make a damn good watch with a sense of adventure, Knut Gadd are equally passionate about raising awareness about the Arctic and making their contribution to help preserve this delicate ecosystem.
Speaking about adventure – the Cult Diver is not just an adventure watch. "To us it is an adventurous watch because before it reaches its new owner it has already rubbed elbows with history, something that hopefully inspires greatness from its wearer", says founder Carl Gadd. It's been a rewarding process and now they are looking to crowdfunding to take it the final step of the way. The Cult Diver Arctic Circle edition is a Kickstarter exclusive and will only be available in this limited run, and only for the duration of the campaign. This due to logistical reasons, and of course the obvious: every year, the summer sun eventually melts even the thick Arctic ice.
Knut Gadd has tried to create a one of a kind watch that transcends the message of adventure, by infusing it with an actual adventure. They hope it finds an audience that appreciates, not just the watch, but the originality of its journey, the important Arctic message and how that infusion carries into their own lives to inspire them. As Knut Gadd himself would have put it: "It's every man's damned responsibility to be an original."
The Cult Diver Arctic Circle is now on Kickstarter.
The post New dive watch Kickstarter campaign appeared first on DIVER magazine.