New 4K underwater HDMI field monitor now on sale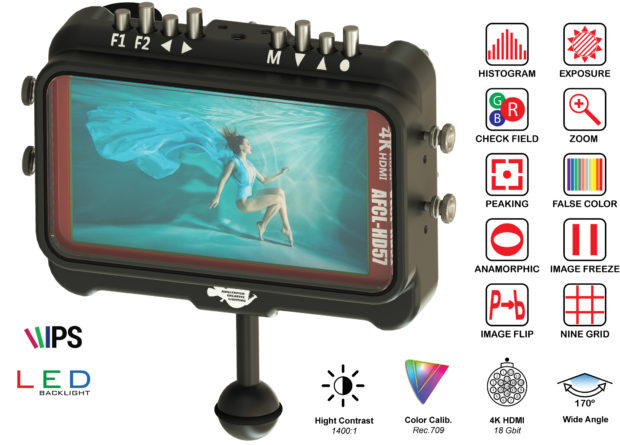 Anglerfish Creative Lighting: AFCL-HD57 HDMI Monitor
Underwater videographers and photographers rejoice! A quality underwater monitor can be the icing on the cake for our beloved sub aquatic imaging equipment.
The newest addition to Anglerfish Creative Lighting line of products is an ultra compact 4K HDMI monitor exclusively designed for underwater shooters. Unlike existing monitors, which are placed inside an underwater housing, the electronics from the Anglerfish monitor is integrated with the housing, which allows for a more compact and lightweight design. A lightweight monitor is perfect for underwater videographers – it makes the entire set up more versatile, easy to maneuver in the water, and more manageable above.
The monitor features a custom design, rugged HDMI cable and bulkhead – which eliminates some of the deficiencies with existing products out in the market. It also features multiple mounting options, sealed battery compartment, stable and energy efficient electronics, color calibrated IPS LED backlit industrial grade LCD display which boast out both high brightness (550cd/m²) and high Contrast (1400:1).
The Anglerfish 4K monitor is a solid, lightweight and reliable piece of gear. In addition it offers a truly beautiful image, and is one of only a few true 4K monitors. Most underwater monitors on the market accept a 4K input signal, but only display in Full HD, this beauty displays a crips 4K image, with optional overlays for peaking, exposure, false colour, grid, and a histogram. All valuable tools to help videographers capture that perfect shot, and at an amazingly affordable price. Highly recommended.
MSRP: $1499.99
For more on Anglerfish, visit: www.anglerfishlighting.ca
The post New 4K underwater HDMI field monitor now on sale appeared first on DIVER magazine.