Lionfish – from predator to pendant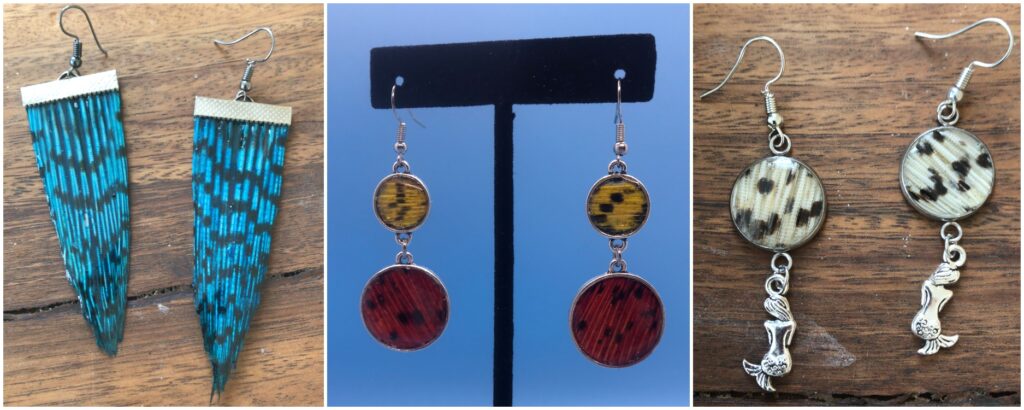 Text by Ian Stalker
Lionfish that venture into Dominica waters may end up on a journey that transforms them from predators to prey to pendants.
Lionfish are native to the Indian and Pacific Oceans but were introduced into Caribbean waters inadvertently or otherwise and have become a major problem in much of that waterbody, where they reproduce quickly and feed on marine species native to the region, often causing those species to see their populations drop dramatically. In turn this has lead dive operators and others involved in Caribbean tourism to try to reduce the numbers of the brightly colored ocean dwellers, in part by encouraging scuba divers to try to catch them and then deliver them to local restaurants, where they end up on dinner plates.
Dominica diver Desiree Belle, however, is taking a different tack when doing her part to rid local waters of a voracious eater and unwelcome intruder.
Belle, who's lived in Dominica for 2 years and has been diving 35 years, gathers fins that were left behind after local chefs salvage the edible parts of the fish. She dries them and then fashions those fins into such finery as pendants, necklaces, earrings and cufflinks. The jewelry "has been a hit!" reports Belle, adding that the fins-turned-fashion statements are available at Nature Island Diving's gift shop. "They sell very well and are very popular. And more importantly, it helps support the continued monitoring and culling of the lionfish from our Caribbean reefs to keep our marine environment in balance."
The jewelry has the blessing of Nature Island Diving owner Simon Walsh, who labels lionfish "a very serious threat to Caribbean reefs, with studies showing a drop of 90% biodiversity in unmanaged reefs. However, in Dominica we have been on top of the invasion and apart from a brief respite, we have maintained a fairly low lionfish count on our dive sites. Very early on we created awareness of these fish among the fishermen and the general population, so they are actually highly desired as a food source. This has kept their numbers low all around the island."
"The best way to tackle invasive species is to create a market for them as a food source and other products that will encourage people to remove them from the ecosystem. The lionfish fins used in the jewelry all come from fish culled and their meat is used in restaurants. The jewelry is another great way to showcase local efforts in reef conservation and opens the conversation around the threat of lionfish to our reefs."
Dominica's government has given divers the green light to hunt lionfish in the Soufriere Scotts Head Marine Reserve, where hunting other marine life is forbidden.
Walsh doesn't hold lionfish, often sought after by aquariums because of their colorful appearance, responsible for their unwanted Caribbean presence. "It is unfortunately humans who caused it," he says. "Lionfish are a very beautiful fish that divers love to see in their natural habitat. So it is sad that the irresponsible actions of a few caused all these lionfish that we cull. Our species should learn not to mess with Mother Nature. So it is sad, however if we do not remove the lionfish from our reefs they will eat our indigenous species to extinction."
And Walsh praises Belle's knack for creating jewelry from an unwanted and unwelcome fish parts as a valuable step in safeguarding the presence of indigenous marine species in area waters.
"Well judging how well it sells, I would say it is very attractive!" he says of the jewelry. "I think she does a great job and it is locally created, starts a conversation and is very unique!"
The jewelry also gets the thumbs-up from Jerry Grymek, who represents Dominica's tourist board in this country. "The unique fin colors and shapes allow for some truly unique designs, and nowadays everyone is looking to stand out, so this is perfect" he says. "And the fact that it starts a conversation about conservation makes it that much more interesting. You can be fashionable and help the environment."
Grymek adds that he has his sights set on a pair of cufflinks, "They may just be the perfect ice-breaker during my next presentation!".
The post Lionfish – from predator to pendant appeared first on DIVER magazine.