Inside the current issue!
Fall 2018. 44 years after we started who would have thought we'd still be here? Well, us actually! For the last 44 years we've published DIVER magazine as an independent magazine, and that's not about to change. What has changed however is our frequency. We now publish 4 issues per year, one per season. We have increased the page count of the magazine, had a shuffle round of a few things, and introduced more feature content and leading industry columnists.
DIVER now has more pages, more features, more opinions and more columnists than ever before. We can't wait for you to read it.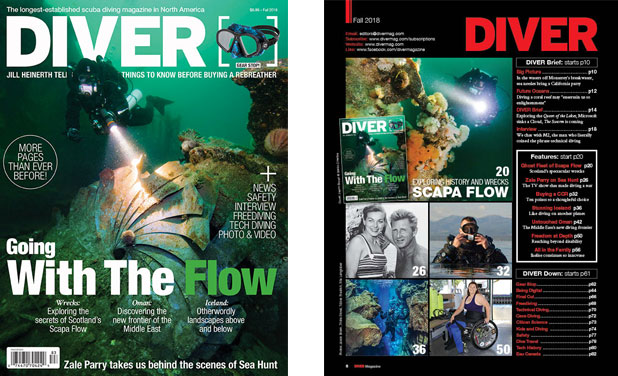 Features this issue:
Ghost Fleet of Scapa Flow – Scotland's spectacular wrecks
Zale Parry on Sea Hunt – The TV show that made diving a star
Buying a CCR – Ten points to a thoughtful choice
Stunning Iceland – Like diving on another planet
Untouched Oman – The Middle East's new diving frontier
Freedom at Depth – Reaching beyond disability
 All in the Family – Ikelite continues to innovate
Columns this issue:
Interview – with Michael Menduno
Being Digital
Final Cut with Jill Heinerth
Freediving
Technical Diving
Cave Diving
Citizen Science
Kids and Diving
Safety by Divers Alert Network
Dive Travel
Tech Diving History
Future Oceans with Jean-Michel Cousteau
Eau Canada
Dive News
Dive Facts with The Diving Almanac
You can read the issue online right now!
Or you can subscribe and get it delivered to your door!