Canada: Free Marine Mammal Guide
Canadian divers spend a lot of time on boats, whether they are in command of the vessel, crewing, or just a passenger, having a more accurate knowledge of marine mammal safety and stewardship is highly recommended.
A collaboration between the Canadian Power Squadron and local whale researchers and educators of the Marine Education and Research Society (MERS) has produced an extensive, free, PDF to help better educate people.
You can view the guide here (right click to download whole PDF).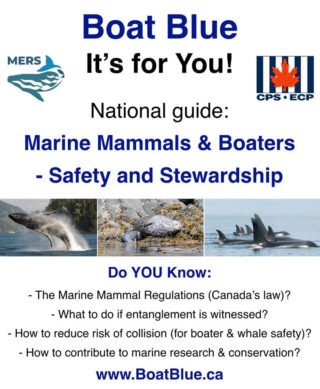 The guide addresses essential boater information including the amended Marine Mammal Regulations (it is boater responsibility to know these); best practices to reduce disturbance; what to do (and not to do) regarding entanglement; how to aid research and conservation.
This is the first guide available from the Canadian Power Squadron's #BoatBlue environmental campaign. Soon to be added is a guide on Marine Plastic Pollution.
MERS is based on NE Vancouver Island and the developer of the guide is also a member of the CPS, Jackie Hildering. With the Marine Education and Research Society being collaborators with CPS, it may also be of interest that they are having an online auction to fundraise. This begins on March 27th and contains all sustainable, local and marine-themed goods. See www.mersociety.org/auction or follow mersociety on social media.
The post Canada: Free Marine Mammal Guide appeared first on DIVER magazine.