However, there are countless activities to do in the Maldives, some involve chartering a liveaboard and donning your wetsuit, while others won't even get your toes wet. There's something for everyone on this archipelago of 1,192 islands in the heart of the Indian Ocean.
Experience the Liveaboard of a Lifetime
Is a luxury yacht charter on your Bucket List? A number of resorts in the Maldives offer yacht charters, but Soneva in Aqua is one of the most luxurious and private. Choose from 1, 3, 5, and 7-night itineraries or create your own to discover the best the Maldives has to offer.
Wind your way through the Baa, Raa, Noonu, and Lhaviyani Atolls where there are countless diving and snorkelling sites for divers of all skill levels, with depths from five to 30+ meters. Explore sunken wrecks, check out caves and swim-throughs, or drift along on an undersea current. Keep an eye out for manta rays, whale sharks, turtles, batfish, Napoleon wrasse, tuna, and blue-line snappers.
The yacht combines Soneva's iconic barefoot philosophy with a sense of freedom and adventure. Soneva in Aqua, 23 meters long and 6.40 meters wide, has a maximum occupancy of six (four adults, two children) with a dedicated crew including a Captain, Sous Chef, Mr. Friday (butler), Dive Master from the Soleni Dive Centre, a Massage Therapist and an Astronomer (on request). Take in the sights of the Maldives from the decks, plush daybeds, outdoor Jacuzzi and catamaran nets on the prow. Below decks you'll find the library, bar and lounge, all with WiFi connectivity. Both the master and guest cabins come with en-suite toilets and showers. Our favourite feature? The master suite has a glass-bottomed spa tub from which you can take in the Maldivian marine life while enjoying a much-deserved soak
Snorkel with Manta Rays
The Maldives is well-known for its larger pelagic species, with Hanifaru Bay in the Baa Atoll being one of the best places in the world to see these gentle giants for yourself from May until November. What makes this destination truly stand out, is that number of mantas you'll get to see. While in most locations you'll only see a dozen mantas, in Hanifaru Bay they flock in the hundreds to feed on zooplankton, making this destination incredibly unusual. The Biosphere's guidelines do not permit diving in Hanifaru Bay, but you can snorkel to your heart's content. You might also spot hawksbill turtles and the elusive whale shark during your trips.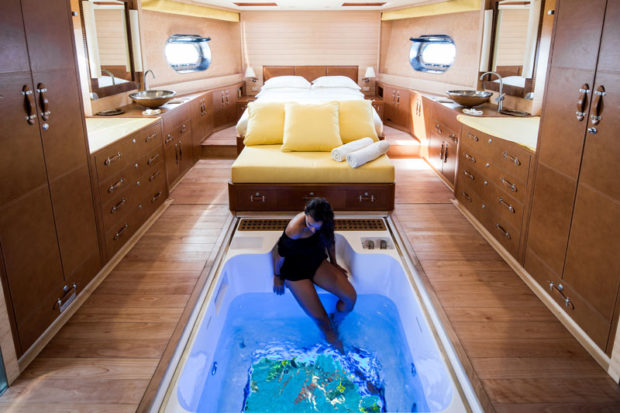 Surf Safari
When you imagine the Maldives, your thoughts normally conjure scenes of smooth ocean vistas, with not a wave in sight. But there is a surf season, and it runs from mid-February to November. The consistency of swells around the atolls vary throughout the season, from March to May's clean conditions, June to August's bigger swells and September to October's consistent swells with variable wind conditions. Surf in 14 different locations in the Baa and Noonu Atolls from the comfort of Soneva in Aqua, with the conditions suited to all levels of surfers, including beginners all year round. Most resorts, like Soneva Fushi, will let you borrow a surfboard and any necessary equipment. So, all you have to do is pack your swimmers and go catch some waves.
Desert Island Hopping
What's the one thing you would take if you were stranded on a desert island? In the Maldives you can definitely take more than one item, so spend the day as a castaway, surrounded by sparkling turquoise waters. Have an uninhabited island all to yourself for snorkeling and sunbathing in complete privacy, followed by a picnic or barbeque on the sands. Or enjoy an entire night alone, with just the stars and your loved ones as company. Most resorts in the Maldives can arrange this little adventure for you, with meals tailored to your liking.
Stargazing
A glimmering starlit sky awaits. For those looking for a unique stargazing experience, look no further than the Maldives. Its location, right by the Equator, means it is perfectly positioned to view constellations in both the Northern and Southern hemisphere. See the North Star and the Southern Cross in one sky, and hear stories from local sailors of how they used them to navigate and pass down stories through generations, out in the middle of the Indian Ocean. The Maldives' low population density ensures it has little to no light pollution, so the Milky Way really has a chance to shine. Some resorts offer on-site Observatories and resident Astronomers to ensure guests get the ultimate stargazing experience, including experiences such as astronomy dinner cruises and stargazing dinners on the sands.
Drool over the luxury Soneva Aqua here.
The post appeared first on DIVER magazine.